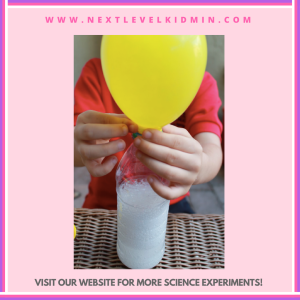 How do you blow up a balloon with baking soda? This experiment will amaze the kids. They can also help in doing this experiment.
What you need:
Balloons
Plastic Bottle
Baking soda
Funnel
Vinegar
Using the funnel, fill the bottle with vinegar (about 1/3 of the bottle). Then use another funnel and pour baking soda into the the balloon. Attach the balloon on the tip of the bottle and let the baking soda spill inside the bottle. Make sure it spills slowly then wait for it to blow up. The baking soda and vinegar mixture creates carbon dioxide filling up the balloon with CO2.
For more Science experiments, visit Mom to 2 Posh Lil Divas.