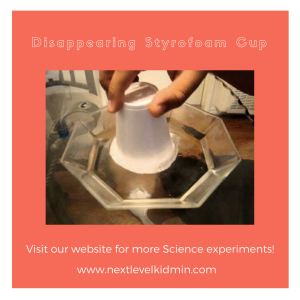 Impress your class by making a styrofoam cup disappear right before their eyes. Try this fun Science experiment!
What you need.
A pan
Styrofoam cup
Acetone
Place the cup on a pan and then pour about a tablespoon of acetone on it. The cup will slowly melt and disappear in no time! When you do this experiment, make sure that you place the acetone out of reach of children as they might think it is water.
For more Science experiments,visit Home Science Tools.