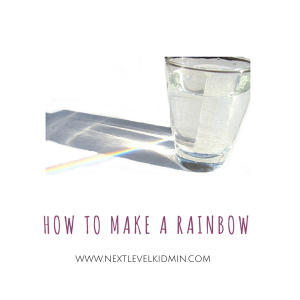 Did you know you can make your own rainbow instead of waiting for it to appear after the rain? Here's a fun experiment you can do with your Sunday school class.
Materials:
A glass full of water
Paper
Go to a part of the room where the sunshine is coming in. Place the glass on top of the paper and let the sunshine pass through the glass. You will then see a rainbow reflected through the glass and onto the paper. How does this happen? When light is refracted (bended) the light is separated into different colors. That's also how it works when you see a rainbow after the rain. When the sunlight passes through raindrops, the light is bended, thus forming a rainbow.
For more fun Science experiments, visit Nothing But Monkey Business.