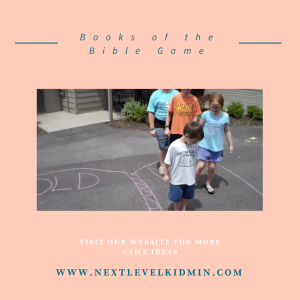 This game will help review kids about Bible books. It doesn't need any complex materials. All you need is a chalk and a place where you can do the game.
Draw two boxes on the ground big enough to fit participants. Write old testament in one box and new testament in the other box. You will be saying books of the Bible and the kids will guess which books belongs to the new testament and old testament by moving to the correct boxes. If the book is not a Bible book, then the kids will move outside the boxes. Make sure to prepare a nice prize for the winner.
For more game ideas, visit Ministry-to-Children.