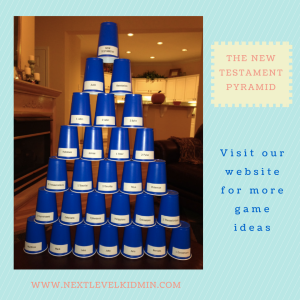 Challenge your Sunday school kids with this game.
What you need:
Cups
Printed books of the New Testament
Masking tape
Print out the books of the new testament and tape each onto the cup. Print one that says "New Testament". Make two sets for two groups. The two groups of kids will need to arrange the books of the new testament by stacking them and creating a pyramid with the "New Testament" cup at the very top of the pyramid. Kids will need to arrange from left to right then bottom to top. They will need to figure out how to build the pyramid with their own arrangement strategy. The group who can arrange the pyramid first, wins!
For more game ideas, visit LifeWay.