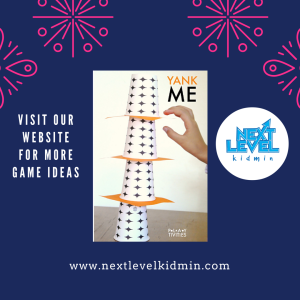 The Yank Me game is played indoors and can be done by kids or any age. You will need the following:
4 colored paper or plastic cups
3 pieces of paper
Timer
Stack the cups upside down with paper sheets in between the cups. The idea is to let the cup fall on to another cup and onto another cup by yanking each paper without destroying tower. This should be done in one minute. Who ever does this first within a minute wins the game. It is not as easy as you think it is!
For more game ideas, visit Playtivities.