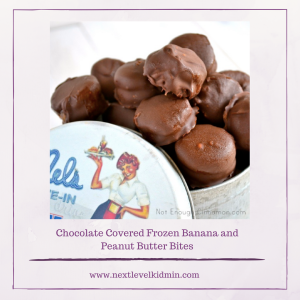 Who wouldn't love the  Chocolate Covered Frozen Banana and Peanut Butter Bites? It's very easy to prepare.
Ingredients:
Riped bananas
Peanut butter (of your choice)
Cooking chocolate (dark or milk)
Slice the bananas and arrange the bananas in a baking pan or a flat pan. Spread the peanut butter on top of the banana slices and then cover it with another banana on top. Melt the chocolate in the microwave for about 30 minutes or until it completely melts. Then pour the chocolate on top of each of the bananas. Make sure to completely cover it. Freeze for at least 1-2 hours or until the chocolate is completely frozen. Serve to kids!
For more yummy snacks, visit Not Enough Cinnamon.